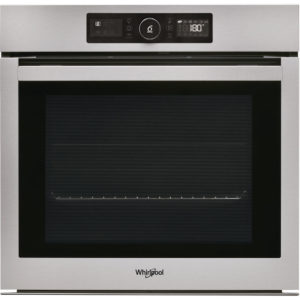 Whirlpool AKZ9 6270 IX Integrated Pyroclean Single Oven
SKU : AKZ96270IX
6TH SENSE TECHNOLOGY
Three steps recipes. Always reach outstanding results. Thanks to the central knob, you can set your oven in three simple steps. Select one of the 6 pre-set recipes and your oven will automatically set the dedicated cooking function and propose the appropriate time and temperature range.
PYROLYTIC TECHNOLOGY
Spotless cleaning at the touch of a button.
Pyrolytic technology uses a high-temperature cycle to burn food residues into ashes, which can then be easily wiped away with a sponge. Heat-reflecting glass panels in the oven door ensure that the external temperature stays low, for added safety
XXL CAVITY
All the space you need.
The XXL cavity in your oven has a capacity of 75 litres with 5 different shelf positions available
ENERGY CLASS
Outstanding energy savings.
Ovens with an A/ A+ energy rating offer an excellent level of energy efficiency, ensuring lower consumption and saving you money on your energy bills.
€499.00
VAT included
Click & Collect at your local store
We are here to support you
We'll call you as soon as possible
Book an appointment with one of our Experts