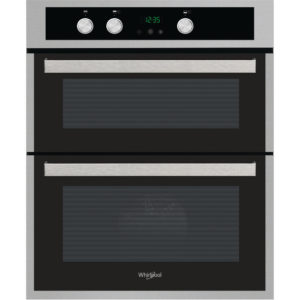 Whirlpool AKL 307 IX Built Under Double Oven | AKL307IX
SKU : AKL307IX
ELECTRONIC CONTROLS
Intuitive controls.
This Whirlpool Double Oven includes a innovative and intuitive digital user interface, to effortlessly program your appliance's cooking functions. It also includes a timer, for added convenience.
CATALYTIC
Self-cleaning panels.
The catalytic panels fitted inside the oven take care of any spills and splashes, eliminating them while cooking.
ENERGY CLASS
Outstanding energy savings.
Ovens with an A/ A+ energy rating offer an excellent level of energy efficiency, ensuring lower consumption and saving you money on your energy bills
€699.00
VAT included
Click & Collect at your local store
We are here to support you
We'll call you as soon as possible
Book an appointment with one of our Experts