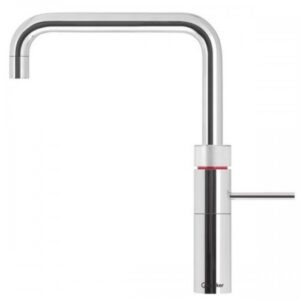 Quooker Combi 2.2 FSCHR Fusion Square Kitchen Tap
SKU : 2.2FSCHR
Meet Quooker's newest innovations, the Nordic series. Fusion: a single tap for hot, cold, and boiling water. The Fusion: hot, cold and 100°C boiling water from
a single tap. From now on, you'll only ever need one tap. And what a tap it is! Fusion is both a hot and cold water mixer and a boiling water tap, united in a single, beautiful, appliance.
Fusion provides all the benefits of Quooker technology and has the new double push-and-turn safety handle. Energy, water and time efficient, it also saves space. And it's just so amazingly convenient, switching from cold to boiling water and back in an instant. Ready to help you incountless kitchen tasks.
Features and Benefits:
Combination boiling-water and mixer tap in Nordic design, complete with childproof push-and-turn handle and angled or arched spout.
Insulation ensures that it is not too hot to touch.
Fine spray that prevents burns.
Childproof (double) push-and-turn handle, crenulated for recognition and extra grip.
Red light ring that lights up when you touch the handle.
Spout can be turned 360º
We are here to support you
We'll call you as soon as possible
Book an appointment with one of our Experts