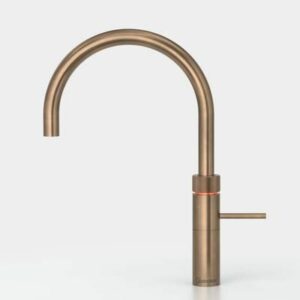 Quooker 3FRPTN PRO3 Fusion Round Boiling Water Tap-Brass
SKU : :3FRPTN
Quooker 3FRPTN Pro3 Fusion Round Boiling Water Tap Brass.
Our newest innovation the Fusion, is a single tap which unites both mixer and boiling water functions. Convenient, space saving and sleek. Incorporates a childproof double-push-and-turn handle with light ring.
Fusion Round:
-Boiling-water tap and mixer tap in one
-Also available in matte black finish
-Round spout
All-in-one tap-Get everything from one tap: boiling, hot and cold water
From now on, there'll only be one tap on the worktop. The Quooker Fusion is a boiling water tap and mixer tap in one, beautifully combined.
Graceful, mysterious, just a little bit dark. And yet everyone's friend. Because when you install a Quooker with a black finish, it completes the picture. Combine with concreate for a sober look. Or go for chic, with rich materials like black marble, granite and brass. Shimmering cold and refreshingly hot!
Quooker PRO3 tanks sit neatly under your kitchen sink, providing instant 100°C boiling water on demand. The 3 litre volume of the PRO3 will suit the majority of households
We are here to support you
We'll call you as soon as possible
Book an appointment with one of our Experts