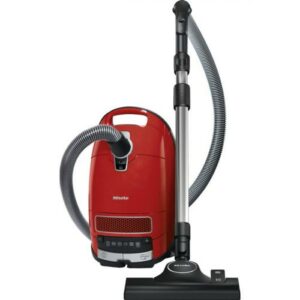 Miele Complete C3 PowerLine, 890 W Red | 12031840
SKU : 12031840
Cleaning performance
It takes more than high wattage to make a good vacuum cleaner. With Miele, a number of design characteristics interact in a most efficient manner. The tight seal of Miele vacuum cleaners and perfect air flow ensure strong suction of the floorhead. Miele has developed especially efficient floorheads for low wattage vacuum cleaners; they achieve perfect cleaning results even with the lowest power setting.
Hygiene
Miele vacuum cleaners' exceptional filtration is based on a multi-stage system. It consists of the innovative Miele HyClean dustbag, motor protection filter and Miele exhaust filter. The interaction of these components ensures that more than 99.9% of fine dust1 is filtered. You can breathe with ease!
Quality
Quality is Miele's highest priority. From conception to finished appliance. Miele cylinder, mini upright and upright vacuum cleaners are developed and manufactured exclusively in company-owned factories. At the end of the manufacturing process, each individual vacuum cleaner is subject to comprehensive testing one more time. This care and attention results in exceptional quality and a long service life for Miele products.
Bumper strip
Miele "Complete C2" ja "Complete C3" vacuum cleaners are equipped with an all-round bumper made from soft synthetic material. This protects both furniture and the appliance in the event of accidental collisions.
Thermal protection
A temperature limiter protects all Miele cylinder vacuum cleaners from overheating. Should the air passage become blocked – for instance by vacuuming up bulky particles – the motor will automatically shut off for safety's sake. After the cause of the shut-off has been eliminated and the appliance has cooled off, it is ready again for service.
Gentle-start motor
The selected power level is ramped up slowly when Miele vacuum cleaners are switched on. This protects the mains from overload.
Comfort cable rewind with single-touch control
The cable for all Miele cylinder vacuum cleaners can be rewound easily with a foot control, without having to stoop. Model series S6 and S8 are also equipped with a touch control function enabling the entire cable to be rewound at the touch of a button.
Park system for vacuuming breaks
The floorhead is simply hooked onto the rear of the vacuum cleaner, leaving the suction tube in a secure and handy working position. Particularly intelligent: The motor is switched off automatically and troublesome stooping is eliminated.
Practical locking system
Floorhead, suction tube and handle lock into each other with an audible fit. The vacuum cleaner's connection is secure but can be easily disengaged at the touch of a button, for instance for additional vacuuming accessories.
Two-sided park system for storage
Suction tube and hose can be securely attached to the upright appliance – on both sides. Thus the vacuum cleaner can be transported easily, stored with minimum space requirements, and operated comfortably by left-handed and right-handed users alike.
€259.00
VAT included
Click & Collect at your local store
We are here to support you
We'll call you as soon as possible
Book an appointment with one of our Experts