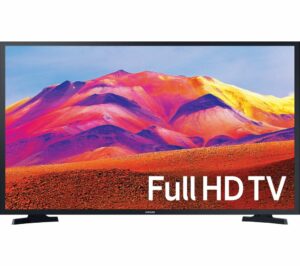 Samsung T5300 32″ Full HD HDR LED Smart TV | UE32T5300
SKU : UE32T5300
"Find 2 Times The Clarity
Your favourite TV programs and movies become real. Discover rich and vivid Full HD resolution with twice the resolution of an HD TV.
See The Stunning Detail In Every Scene
Watch every scene burst from the screen with a bright, detailed picture with Samsung HDR TV.
Lifelike Colour That Brings You Closer
PurColor makes watching videos feel almost like you're there. It enables the TV to express a huge range of colors for optimal picture performance, and an immersive viewing experience.
Improved Detail For A Clear Picture
Ultra Clean View delivers high-quality images with less distortion, utilising an advanced algorithm to analyse original content and deliver improved detail.
See Images Comes To Life
Contrast Enhancer brings flat image to life by adjusting the contrast, offering outstanding picture quality with deeper depth.
Stylish Design For Your Space
This beautifully slim design melts into any existing décor and elevates the style without taking it over.
Works wth Amazon Alexa
New Samsung TV works with Alexa so your life just got simpler. It's easy to connect your Alexa-enabled devices. With Samsung TV's compatibility, have Alexa turn on your TV, change channels, control volume, and more.
Control your TV with the Google Assistant
Now Samsung TV works with your Google Assistant to get more done hands-free. Change channels, adjust the volume, control playback and more with just your voice.
Works with AirPlay 2
With AirPlay 2 built in, you can stream or share content from Apple devices to the big screen. Effortlessly play videos, music, photos and more from your iPhone, iPad and Mac on your Samsung TV.
Vibrant Images
Easily discover ever more ways to enjoy TV, only with Samsung Smart TV. Enjoy striking images with enhanced depth and colour contrast. Improve a blurry TV picture with Ultra Clean View. See impressive colour. A thin TV designed to look elegant from any angle. See the stunning detail in every scene with Samsung HDR TV. Instant access to 33 extra free TV channels, straight out of the box. Requires Internet connection.
Smart TV powered by TIZEN
Discover ever more ways to enjoy TV. Only the No. 1 selling Smart TV brand can give you access to the largest collection of 4K content and all your catch up TV apps including Disney+, Apple TV, NOW TV and BT Sport apps all in one place at the touch of a button, meaning you spend less time searching and more time watching the content you love. And it's never been so easy to enjoy your TV, with Samsung SmartThings.
PurColour
See impressive colour. Samsung's PurColour improves the quality of any image, uncovers hidden details, and helps show your content's true colours.
Works with
Works with your compatible Bixby, Alexa, Google Assistant and Smart Things-enabled smart devices and home appliances. Make your TV the heart of your connected home, so that you can spend more time enjoying and less time doing. Requires SmartThings app, Internet connection, and Smart Things enabled devices.
One Remote Control Functionality
You no longer need multiple remotes lined up on your coffee table. Control all of your compatible devices and content with the TV remote control.
Ultra Clean View
Make blurry images a thing of the past. Ultra Clean View improves your content no matter the quality.
Easy Set-up
Automatically login into your accounts with simple, seamless smartphone connection and setup. Only Samsung can offer comprehensive set-up in just a few simple steps. Your TV and mobile will automatically connect and your mobile will share your Wi-Fi link with the TV for seamless connection to the internet. If your mobile is linked to a Samsung Account, it will automatically be shared with your TV: no additional login required.
Smart Things Mobile App
The Smart Things mobile app enables your smartphone to connect to your Smart TV quickly and easily to unlock great features such as Screen Mirroring, a TV Remote Control. Compatible Android or iOS phone required.
Samsung TV Plus
Instant access to 33 free TV channels and content for the whole family without the need for an aerial. Experience the true potential of your TV straight out of the box. Requires Internet connection."
€269.00
VAT included
We are here to support you
We'll call you as soon as possible
Book an appointment with one of our Experts