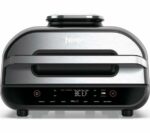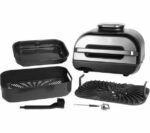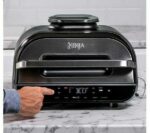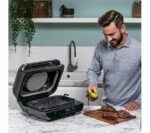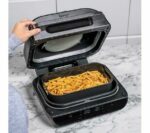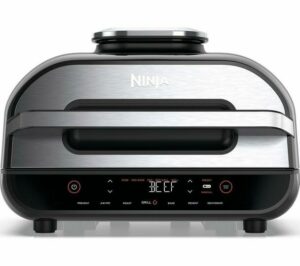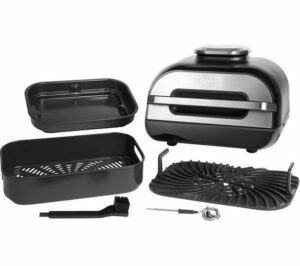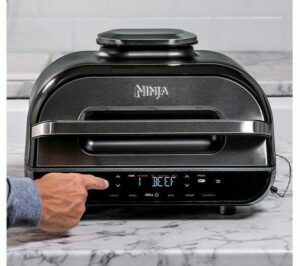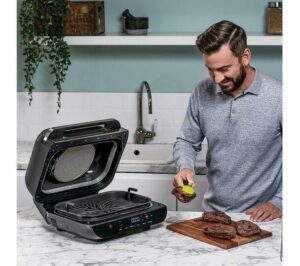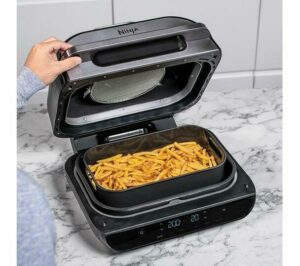 Ninja 3.8L Foodi Max Health Grill & Air Fryer | AG551UK
SKU : AG551UK
Product Features:
Timer
Non-Slip feet
Cool wall exterior
Pre-Set Functions: 6
No guesswork – The Digital Cooking Probe precisely monitors your food's temperature during cooking, so you don't have to! Cook your favourite meat and fish exactly as you like it. No guesswork. No need to worry about under or overcooking. No need to cut into food to see if it's ready. Audible alerts let you know when your food is ready to remove and rest before serving. How does it work? Simply select a cooking function and food type from preset options. From rare to well done, choose your desired outcome and cook your food with the leave-in Digital Cooking Probe in place. When the grill beeps, take your food out to rest.
No-flip grilling – Cyclonic Air Technology cooks food quickly and evenly on all sides, with no need to flip. A powerful fan circulates temperatures up to 260÷C around food inside the grilling chamber, for even cooking and all-around searing. Cooking with little or no added oil, the grill plate's cooking temperature is precisely controlled to deliver exceptional searing and an authentic chargrilled finish. Low, Medium, High and Max settings ensure delicious results, whether you're cooking from fresh or frozen.
More flavour, less smoke – A removable splatter guard prevents fat from splashing against the heating element, working alongside a temperature-controlled grill plate and cool-air zone to reduce smoke.
€259.99
VAT included
Click & Collect at your local store
We are here to support you
We'll call you as soon as possible
Book an appointment with one of our Experts