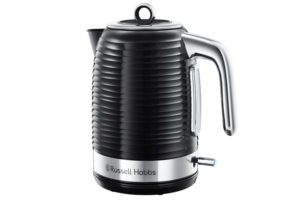 Inspire Black 24361 Kettle
SKU : 24361
If you 're looking to add a touch of glamour to your kitchen, the Black Inspire Kettle offers style as well as performance. By combining a black premium textured high gloss finish with stunning stainless steel accents; this kettle will add a touch of class to any kitchen counter.
Perfect Pour
The Black Inspire Kettle is designed with a perfect pour spout that creates a streamlined flow of water straight from your kettle to your cup, leaving the days of splashes and splutters all over the counter behind.
Boils One Cup in 45 Seconds*
With 1/2/3 cup markings, the Inspire kettle has faster boiling options whilst also saving energy.
We are here to support you
We'll call you as soon as possible
Book an appointment with one of our Experts