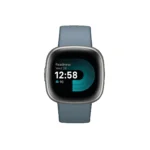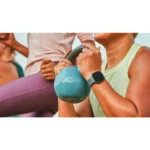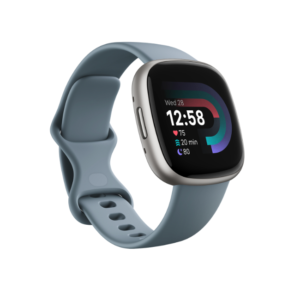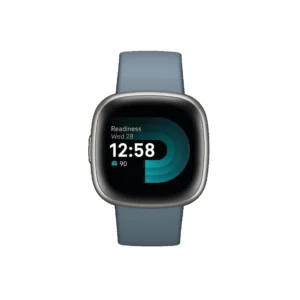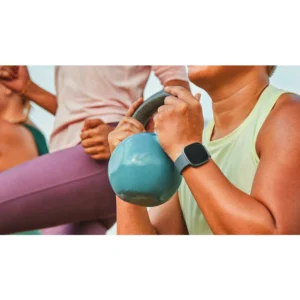 Fitbit Versa 4 Health & Fitness Smart Watch – Waterfall Blue & Platinum | FB523SRAG
SKU : FB523SRAG
24/7 HEART RATE TRACKING
Track calorie burn and optimise workout efforts with our enhanced PurePulse® 2.0 technology & see your resting heart rate trends and cardio fitness level in the app.
SLEEP STAGES & SLEEP SCORE
See your time in light, deep and REM sleep and get a daily Sleep Score in the Fitbit® app and on your wrist to better understand your sleep quality each night.
SMART WAKE
Set your Fitbit alarm to wake you with a quiet vibration during a lighter sleep stage to help you feel more refreshed.
SLEEP MODE
Snooze uninterrupted by using sleep mode to mute smartphone notifications and stop your screen from turning on at night. Set a schedule to turn sleep mode on automatically.
GUIDED BREATHING SESSIONS
Find moments of calm in your day with 2- and 5-minute guided breathing sessions that are personalised based on your heart rate.
PERSONALISED REMINDERS
Get the nudge you need to stay on track with personalised reminders that help you move more, stick to a sleep schedule and more.
BUILT-IN GPS
During outdoor runs, rides, hikes and more, use built-in GPS to see your pace & distance without your phone, then see a map of your workout route in the Fitbit app.
WORKOUT INTENSITY MAP—IN APP ONLY
After outdoor exercise, check your workout intensity map in the Fitbit app to see your heart rate zones throughout your route and learn where you put in the most effort.
ACTIVE ZONE MINUTES
Active Zone Minutes help you make every minute count during workouts by buzzing your wrist when you enter your personalised target heart rate zone.
ALL-DAY ACTIVITY TRACKING
Track all-day activity like steps, distance, floors climbed, active minutes and calories burned to show how every part of your day gets you closer to your goals.
WATER RESISTANT TO 50M
Versa 3 is water-resistant to 50 metres, which means you're free to track laps in the pool and wear it in the shower, at the beach and beyond.
20+ EXERCISE MODES + SMARTTRACK
Choose from up to 20+ exercise modes to get real-time stats during your workouts—or let SmartTrack automatically recognise and record your exercises.
CARDIO FITNESS LEVEL
Get a better understanding of your fitness level and learn how you can improve over time with a personalised in-app Cardio Fitness Score.
€229.99
VAT included
Click & Collect at your local store
We are here to support you
We'll call you as soon as possible
Book an appointment with one of our Experts