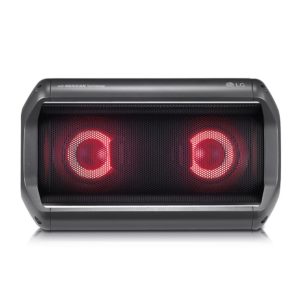 LG PK5 XBOOM Go Portable Bluetooth Speaker
SKU : PK5
Take the party with you
Keep the party going as long as you can with the LG PK5 XBOOM Go Portable Bluetooth Speaker.
It can be an instant vibe killer when the speakers at a BBQ, house party or pool session run out of battery. With an incredible 18-hours of battery life from a single charge, you'll never need to worry about the PK7 LoudR Speaker calling it a day on your party before you do, and can keep tune after tune coming. It's easy to transport too thanks to the action grip handle.
Redefined audio quality
In a collaboration with LG, specialist audio manufacturer Meridian have helped make the PK5 XBOOM Go an industry-shaping portable speaker. Having pioneered technologies such as Dolby Digital, Meridian engineers have enhanced the mechanical design and implemented sound modifications to improve both the hardware and software of the PK5 to get the best possible sound quality.
Fill the room
Sometimes a speaker can sound great inside, but when you take it outside it suddenly sounds weak or can get drowned out by other noise. With dual passive radiators and Bass Boost technology, the PK5 Speaker delivers rich, powerful, punchy audio in any environment and will sound just as good on a beach as it will in your living room.
The PK5 also has high fidelity bluetooth, which allows for bigger transfers of data from your mobile to the speaker. This means you'll get the superior sound quality you'd expect from a wired connection, but with freedom for cables. With the speakerphone you can even go hands free – the built-in mic automatically filters background noise so calls are loud and clear.
€119.00
VAT included
We are here to support you
We'll call you as soon as possible
Book an appointment with one of our Experts