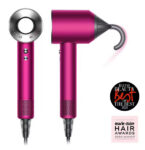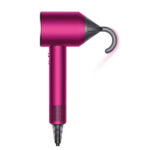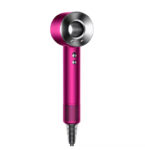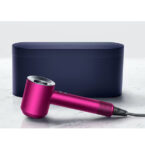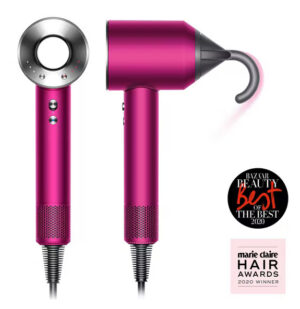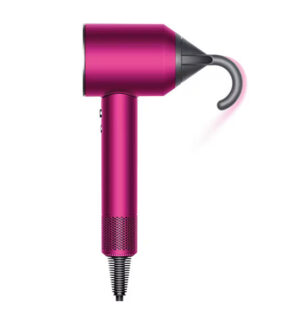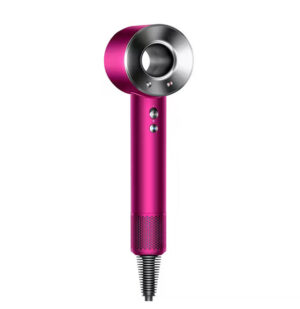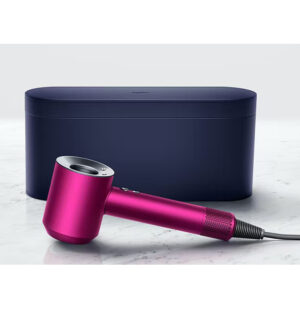 Dyson Supersonic Mother's Day Gift Edition Hair Dryer – Fuchsia/Nickel | 408013-01
SKU : 408013-01
Powerful Digital Motor, Designed for Fast Drying
The small, powerful Dyson digital motor V9 is, on average 6x faster than other hair dryer motors.¹ Combined with Air Multiplier technology, it produces a high-pressure, high-velocity jet of controlled air, for fast drying and precision styling.
Intelligent Heat Control Protects Hair from Heat Damage
Unlike some others, the Dyson Supersonic hair dryer measures air temperature over 40 times a second and regulates the heat. This helps prevent extreme heat damage, to protect your hair's natural shine.
Engineered for Balance
We've turned convention on its head and put the motor in the handle. Completely rebalancing the dryer's weight and shape.
Magnetic Attachments
The Dyson Supersonic hair dryer comes with magnetic styling attachments. For easy fitting and rotation during styling.
Dyson Styling Concentrator
Creates a high-velocity blade of air that's perfect for styling. And because the air is focused, you can style one section at a time – without disturbing the rest.
Dyson Diffuser
Disperses air more evenly around your curls and simulates natural drying, helping to reduce frizz and define curls and waves. Longer prongs allow you to style your hair with greater control – and reach deeper into the hair.
Gentle Air Attachment
Engineered to be kinder to fine hair and sensitive scalps, the new Gentle air attachment diffuses the air, creating a gentle, cooler airflow – whilst still drying hair fast. Extreme heat can cause colour fade. The Dyson Gentle air attachment operates at a lower temperature to help prevent colour loss. Negative ions help reduce static.
Wide-Tooth Comb, Volume and Shape for Curly Hair
Engineered for curly and textured hair, the new Wide-tooth comb attachment has robust teeth to help lengthen hair as it dries, or create volume and shape.
New, Flyaway Attachment Hides Flyaways
The ideal finishing tool for sleek, straight styles. Hides flyaways under longer hair to give you a smooth, shiny finish¹. With just air.
Acoustically Tuned
The powerful motor is tuned to produce one inaudible frequency. And it's enveloped by a vibration reduction system.
Key Controls:
3 precise speed settings: High – for fast drying and styling, Medium – for regular drying, Low – for diffusing
4 precise heat settings: 100°C – fast drying and styling, 80°C – regular drying, 60°C – cooler drying and diffusing, 28°C – constant cold Cold shot, 28°C cold shot, to set your hair after styling
Magnetic Attachments
Technical Specifications:
Negative ions help reduce static
1600w power
0.659kg
245mm x 97mm x 78mm (H x L x W)
Product Features:
The Dyson digital motor V9: Spins up to 110,000rpm, propelling 13 litres of air up to the amplifier every second
Air Multiplier technology: Airflow is amplified to produce a controlled, high-velocity jet of air for fast drying
Intelligent heat control: Measures airflow temperature over 40 times a second to prevent extreme heat damage
€399.00
VAT included
We are here to support you
We'll call you as soon as possible
Book an appointment with one of our Experts