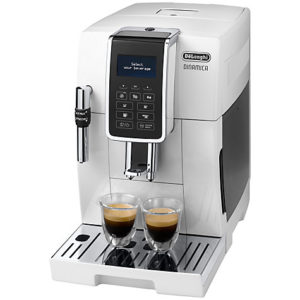 De'Longhi ECAM350.35.W Dinamica Bean-to-Cup Coffee Machine
SKU : ECAM350.35.W
The perfect drink is the one that matches your taste, made just how you want it.
Dinamica is a new range of De 'Longhi bean to cup coffee makers designed to satisfy every coffee desire. A complete range offering an intuitive interface, an extensive selection of one touch beverages and the new My Menu button to access a special list of customisable recipes.
Great variety
From an authentic Italian Espresso to a delicious Latte Macchiato, Dinamica can serve up to 6 authentic recipes. Your chosen coffee beverage can be enjoyed with just one touch or through the Drink Menu on the new and intuitive LCD display. Be amazed by its customisation capabilities to suit your individual taste.
Deliciously creamy drinks
This model features an adjustable milk frother to manually prepare a creamy foam for your cappuccino or to heat the milk for your white coffee.
Tailored grinding
To achieve a coffee full of flavour, Dinamica has a built-in grinder with 13 grind settings in order to create the perfect grind and the best aroma extraction.
Easy maintenance
The brewing unit can be completely removed and simply rinsed with water. While the milk carafe is also dishwasher safe.
€599.00
VAT included
We are here to support you
We'll call you as soon as possible
Book an appointment with one of our Experts